Namaha is a Sanskrit word that means "not me" or "it is not about me."
It reflects the notion that the yogi is not in control of his/her life or the universe and that he/she submits to a higher power or the higher Self. Namaha is used in mantras and shlokas.
In yoga, chanting a mantra is a practice that yogis use to focus concentration on one thought and/or still the mind in meditation. When namaha is part of a mantra, it reminds the yogi that he/she is part of the universe and gains peace only by removing the focus from him/herself.
Source: Yogapedia
While staying in NAMAHA house, enjoy private yoga classes in our retreat in the pool area.

Surrounded by hundred-year-old trees, you can share a meditation session guided by Rosemarie, an experienced yoga instructor who will conduct a private yoga class or meditation session.


---

---

$20.- 1 or 2 people

---

1 1/2 hour private class with yoga mat included

Exclusive for NAMAHA House, enjoy private massage sessions in our retreat by the pool.

Surrounded by hundred-year-old trees, you treat yourself with an extensive massage session by Rosemarie, with mixed therapeutic and relaxing massage techniques.


---

---

$100/1hr. – $130/1½hr.
Customized massage sessions

---

Your private massage session

While staying in Nosara or Guiones area, experience NAMAHA Sound Healing sessions.

In a rainforest predominant secluded area, relax and enjoy this sound healing experience guided by Rosemarie, an experienced healer, specialized in sound techniques among other.


---

---

$160.- Private session

---

3 hour extended session explained

Rose is a certified reiki master who help you understand this ancient art.

While staying in Nosara or Guiones in Costa Rica, you can learn about this ancient practice with one of the most experienced people on this discipline in this area.

---

---

$160.- Private session

---

3 hour extended session explained

While enjoying your stay in Nosara or Guiones, align your chakras.

This workshop is 3 hours long, sometimes more… Be prepared to relax and learn about this ancient art and how it affects your life. Rosemarie has a long experience in this field too.


---

---

$160.- Private Workshop

---

3 hour interactive workshop
Quantum Flow Alignment
...with the Quantum file of infinite possibilities.
We align with the Divine by Breath, Sound and Movement. I was trained and certified by Juan Pablo Barahona on Quantum flow.
---
Sound Healing
We use the healing powers of the tibetan bowls or "cuencos" to help you heal where it is needed.
Sound healing creates sound waves. Sound waves shape matter. Our body is matter...
---
Massage
With my many years of experience I intuit what your body needs.
I was trained in Hawaii to be a massage therapist. -Never stop learning-
---
Combined Therapy - Rates $80/hour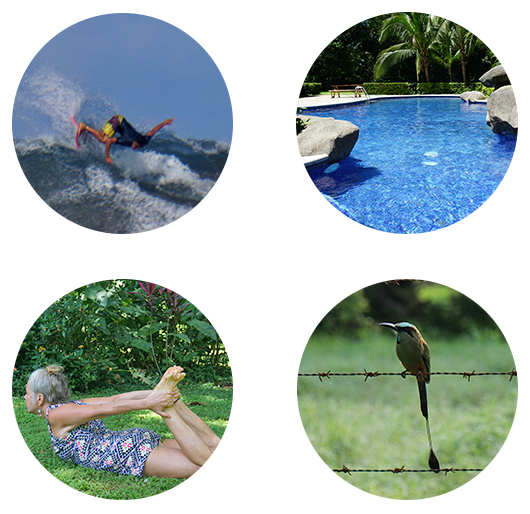 FEATURED TOURS
Let me help you plan your
perfect vacation
---
I have been living in Costa Rica for the past 15 years... I've lived in several different places and I choose Nosara as my special place. I know my way around and I love to surf and enjoy the perks of living in beautiful Costa Rica, so I know where to go see the turtles nesting, or where to get some nice waves, get surf lessons and also all the yoga activities around the area.
---
Nosara has had a sustained growth in the last 10 years and has many attractions, -mostly dependant on our awesome climate, nature, and wildlife- that can be better enjoyed with good planning and some useful information I can help you have some fun on a reasonable budget. I hook you up with Horseback Riding tours, ATV tours, bicycle rentals, car/truck transportation, and more.
When I met Rose, I was unsure how to move past a recent loss. She gave me a healing session and channeled some important words that I would live by and wholeheartedly believe with every cell in my being because I felt what she said was pure radiant truth. Because of this transformational experience, she provided me, I was able to take my existence to the next realm and break several karmic patterns that were not serving me. I am so grateful for Rose and her ability to connect to spirit because it's earth angels like her that create divine hope. She planted a seed inside of my being and in turn, my life became abundant instead of empty. I love you, Rose!

I received so much from my massage/energy work and quantum flow with Rose. Rose is a true medicine woman. Her devotion is a powerful activation- you feel the pure channel that she is. Her massages are one of a kind because she integrates energy work, primal sound, and deep attunement to what your soul needs. You can feel the sincerity of her heart as she clears your feel and pours her entire being into your soma.

She facilitates an amazing session that combines body work, energy clearing, sound healing, quantum flow and intuitive coaching. She has such a soft, authentic, loving energy. I felt a strong shift in my energy after my session with her and I highly recommend this transformative session to anyone seeking a unique experience.

Namaha house is a very calm place to stay, I have been sleeping very well here. Rosemarie is a wonderful, loving person a good listener, and a true healer. She is so energetic and positive, as well as respectful of her guests' space. I just received a massage from her and feel very renewed and relaxed. I love her integration of different styles, combining sound healing with deep tissue work, on top of that I received psycho-spiritual coaching, she said just what I needed to hear and heal. I was very impressed with Rosemarie's healing work and want to say it was the best holistic, integrative treatment I ever received!

I liked the experience of doing quantum flow, I feel that it renews the energy of the whole body, and loads it with positive energy. I like the idea of connecting with my quantum body.

I am very happy and energized after the classes of Flow with Rosemary. Good vibes, remembering me to connect with the breathing and let it flow! Thank you, Rose.

I am feeling very grateful after the great classes of Quantum Flow with Rousmery as a teacher. She transmits lots of power and a deep connection with Mother Earth. In her classes, we all felt her honest intention to help everybody through movement and happiness, connection, and listening to the source.

I look forward to my Quantum Flow with Rosemarie every week. Rose helps me let go of what doesn't serve me and to be open to what does. I'm sort of introverted and Rose is so non-judgmental and has so much good energy that I'm extremely comfortable with her. The breathing and movements help me release stress and negative tension and open me up to potential and gratitude.

Many thanks to Rose; a beautiful, generous person who went above and beyond to make sure I enjoyed my relaxing stay. Not only was she the perfect hostess, but I have truly made a life-long friend.
THE HOSTESS
Rosemarie Gonzalez Gainza Rosemarie Gonzalez Gainza, RYT-500, is a Holistic Health Practitioner, Certified Yoga teacher, Reiki Master, and the founder of Vida Asana Retreat Center in Costa Rica. Her style of Yoga combines principles of Ashtanga, Bikram, and Anusara, creating a strong, healthy, and happy flow. Her classes relieve stress and anxiety, improve balance and flexibility, and increase strength and calmness. A practitioner of yoga since 1988, Rosemarie has 30 years of teaching experience and has trained and studied with world-renowned teachers including Pattabhi Jois, Desiree Rumbaugh, Shiva Rea. Rosemarie trained students to become yoga teachers. Raised in Argentina, Rose has traveled and moved a lot; she has lived and taught in Costa Rica, Hawaii, California, Mexico, and Sarasota, FL. Rose now lives in Nosara Beach, Costa Rica; from the NAMAHA House, she offers healing, private yoga classes, coaching, workshops and reiki attunements. She is finishing her book "Lupe desde el cielo" where she shares her heart-breaking experience with the loss of a daughter; striving to help others overcome the departure of a loved soul. Rose is a fervent student of A Course in Miracles; she is a great listener and her heart is always open.
WANT TO CONTACT ME? REACH OUT
Send me your message or leave a review.